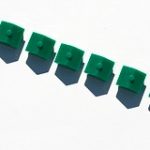 MBS prices are lower this morning after a stronger than expected ISM Services Index was announced at 8:30 a.m. et and then at 10:00 a.m. et a much better than expected Pending Home Sales number was released.  This followed a week last week that saw MBS prices fall by about 1%.  Last week included the end of the Fed's MBS purchase program, but the end of the program cannot be the sole blame for the drop in MBS prices.  Treasury prices fell as well and stocks improved.  Generally, the economic announcements during the week, including the Nonfarm Payrolls, were better than expected increasing the need to build in yield to cover longer term inflation.  The spread in yields for 10 yr Treasuries versus mortgage-backed securities did widen but only by 15 to 20 basis points.
The focus of the mortgage industry regarding pending legislative and regulatory issues is now placed squarely on the Senate Finance Committee's passage of the Restoring American Financial Stability Act.  This Act contains many provisions which if passed will impact mortgage companies, but possibly none as significantly as a provision which will require mortgage originators and/or security issuers to retain 5% of the risk of the loans they originate and sell.  Special guest Glen Corso, Managing Director of the Community Mortgage Banking Project, explained the vague nature of many of the risk retention provisions of the Act  and the substantial degree to which regulatory decisions will dictate how its provisions are interpreted.  The retention of risk as included in the Act will substantially change the mortgage industry.
Guests Tom Millon and Rob Katz joined the show to finish the discussion on the risks of implementing a mandatory delivery strategy versus a best efforts strategy.  Experienced professionals and accurate, timely data were identified as essential elements of a successful conversion.
Click PLAY to listen to the podcast of this week's BlogTalkRadio/Lykken on Lending with Dave Lykken and MBSQuoteline's Joe Farr :