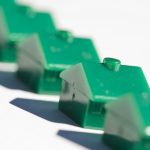 Senate Bill 3217 Restoring American Financial Stability was the focus of discussion on the show Monday, particularly two recently passed amendments which are of great interest to the mortgage banking industry.  The amendments deal with risk retention and loan officer compensation.  One is good for the industry and the other is not.  Glen Corso, Executive Director of The Community Mortgage Banking Project, joined the show to bring a first hand understanding of the amendments and their status.
The amendment that is good for the mortgage industry deals with the risk retention provisions of the original  bill.  The original bill would have required mortgage originators to retain "skin in the game.  It would have required originators to retain 5% of the risk on all the loans they originated and sold to investors.  The amendment exempts from the 5% risk retention requirement certain mortgage loans which meet the definition of Qualified Mortgage Loans.  Since 90% or more of today's loans will meet the definition of Qualified Mortgage Loan, the amendment significantly reduces the number of loans on which originators will be required to retain risk.
The amendment that is not good for the mortgage industry restricts how loan originators are to be compensated.  Glen Corso explained that this amendment was introduced Tuesday evening last week and passed on Wednesday morning, giving Glen and other industry advocates little time to discuss its drawbacks with Senators.  The amendment restricts paying commission based on the terms of the loan, which likely means no overage or yield spread premium.
The Senate Bill is not yet law.  It must first be passed by the full Senate and then go through a reconciliation with the House version of a  financial reform bill before it will be final.
We will discuss the risk retention amendment and the loan officer compensation amendment in further detail in separate posts later this week.
Click PLAY to listen to the podcast of this week's BlogTalkRadio/Lykken on Lending with Dave Lykken and MBSQuoteline's Joe Farr :
MBSQuoteline supplies the essential market information necessary for effective decision making by Originators when assisting borrowers during the loan origination process, and for secondary marketing departments while managing pipelines. For additional information or to sign up for a free 2-week trial subscription, visit www.MBSQuoteline.com or call (800) 627-1107.
Tune in every Monday at 1:00pm(et)  for up-to-the-minute information on interest rates, loan programs and "hot" industry news related to the mortgage industry. Dial: (646) 716-4972 or log in at: www.blogtalkradio.com/lykken-on-lending