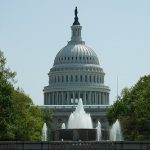 Mortgage companies and mortgage originators will be significantly affected by what Congress does in the final Financial Reform bill.  The bill made it through the House and Senate Conference Committee last Friday.   Glen Corso, Executive Director of the Community Mortgage Banking Project, returned to the show today to describe what the bill now looks like.  He focused on the two provision directly affecting the mortgage industry: Risk Retention and Loan Officer Compensation.
The current Risk Retention provision actually improved in the conference committee.  There is still a requirement for originators to retain 5% of the risk on the loans they originate and sell.  This would be devastating for the industry, except for the fact they the bill exempts almost all of the loans being made today.  The bill says that the requirement to retain risk does not apply to government guaranteed loans (FHA, VA, and USDA) and all other loans "well underwritten.  Well underwritten loans are loans that are fully documented and have reasonable ratios, are not negative amortization loans or loans with large payment adjustments possible.  Most Fannie and Freddie qualifying loans would meet this definition.  Glen believes the bill will allow an allocation of the retained risk between the various parties in the origination chain.
The  Loan Officer Compensation provision did not change in the conference.  It will prohibit originators from being paid commission based on the terms of a loan.  In addition, it prohibits a borrower from being charged origination fees while on the same loan the originator receives compensation from an investor.  This provision will likely eliminate priced in overage and some yield spread premium.  It will not prohibit an originator from benefiting from overage resulting from market price improvements subsequent to the time the rate and points are quoted to the borrower.
It was nice to hear that Glen does not believe that either of these provisions will be effective for 18 to 20 months.  The conference committee bill must still be passed by the House and the Senate and signed by the President before it is final.
Click PLAY to listen to the podcast of this week's BlogTalkRadio/Lykken on Lending with Dave Lykken and MBSQuoteline's Joe Farr :

MBSQuoteline supplies the essential market information necessary for effective decision making by Originators when assisting borrowers during the loan origination process, and for secondary marketing departments while managing pipelines. For additional information or to sign up for a free 2-week trial subscription, visit www.MBSQuoteline.com or call (800) 627-1107.
Tune in every Monday at 1:00pm(et)  for up-to-the-minute information on interest rates, loan programs and "hot" industry news related to the mortgage industry. Dial: (646) 716-4972 or log in at: www.blogtalkradio.com/lykken-on-lending
There will not be a BlogTalkRadio Lykken on Lending program next Monday, July 5 in observance of U.S. Independence Day.