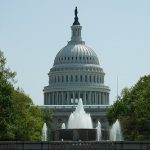 Glen Corso, Managing Director of The Community Mortgage Banking Project, joined the show today and offered his "inside the beltway insights on the effects the change of control in the U.S. House of Representatives may have on the mortgage industry.  According to Glen, the single biggest effect will come from Barney Frank no longer being the Chairman of the House Financial Services Committee.  Barney has been such a significant influence over mortgage related legislation that without him in the Chairman position, future legislation will likely be less hands-on.  Glen said to expect some technical corrections to the Dodd-Frank Bill.  The corrections may be a little more than technical corrections, but far short of wholesale changes the Republicans would like.  He expects little to be done about Fannie Mae and Freddie Mac now that the Republicans control the House.  The two parties are very far apart in their belief about the proper course of action for Fannie and Freddie and without Democratic control of both the House and the Senate neither party is likely to succeed in pushing their plan.  Glen reminded everyone that funds have already been committed to Fannie and Freddie to replenish their capital as losses continue to roll through and Republicans will have a very difficult time stopping future funding of Fannie and Freddie.  This should provide some comfort to the industry that liquidity from Fannie and Freddie to support mortgage originations will continue for at least the next couple of years.
Click PLAY to listen to the podcast of this week's BlogTalkRadio/Lykken on Lendingwith Dave Lykken and MBSQuoteline's Joe Farr:

MBSQuoteline supplies the essential market information necessary for effective decision making by Originators when assisting borrowers during the loan origination process, and for secondary marketing departments while managing pipelines. For additional information or to sign up for a free 2-week trial subscription, visitwww.MBSQuoteline.comor call (800) 627-1107.
Tune in every Monday at 1:00pm(et)  for up-to-the-minute information on interest rates, loan programs and "hot" industry news related to the mortgage industry. Dial: (646) 716-4972 or log in at: www.blogtalkradio.com/lykken-on-lending & http://costity.com/personal-loans/where-to-get-low-credit-score-loans.html