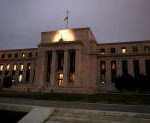 Mortgage rates have moved higher (mortgage security prices have moved lower) and strangely enough QE2 deserves much of the blame.  The Fed intended for the opposite to happen.  As they purchase their $600 billion in long-term Treasury securities, the Fed expected the added demand would drive prices higher and rates lower, not only for Treasury securities, but for mortgage backed securities as well.  Things have not happened as planned.  The Fed began their Treasury purchases on Friday and  MBS prices fell 27/32nds.  The Fed continued their Treasury purchases today and MBS prices are down another 16/32nds.  So what has gone wrong?
Some of the issue is that MBS prices rose considerably in the weeks preceding the Fed's announcement that they were going to buy $600 billion of Treasury securities.  The much anticipated announcement had already accomplished much of the expected end result before it even started.  After the announcement, sentiment toward the benefits from the plan shifted.  Investors worldwide began to doubt the Fed's ability to control rising inflation when it begins.  Foreign investors recalculated their required returns after seeing the value of the dollar fall to recent lows.  Political power in the US shifted from the Democrats to the conservative Republicans and Tea Party members.  And several economic measures announced right around the time of the Fed's announcement were stronger than expected.  All of this combined to suggest to investors that inflation may heat up and any further quantitative easing plans were unlikely, forcing a sell off in Treasury and mortgage backed securities, resulting in higher long-term interest rates.
Click PLAY to listen to the podcast of this week's BlogTalkRadio/Lykken on Lending with Dave Lykken and MBSQuoteline's Joe Farr:

MBSQuoteline supplies the essential market information necessary for effective decision making by Originators when assisting borrowers during the loan origination process, and for secondary marketing departments while managing pipelines. For additional information or to sign up for a free 2-week trial subscription, visit www.MBSQuoteline.com or call (800) 627-1107.
Tune in every Monday at 1:00pm(et)  for up-to-the-minute information on interest rates, loan programs and "hot" industry news related to the mortgage industry. Dial: (646) 716-4972 or log in at: www.blogtalkradio.com/lykken-on-lending