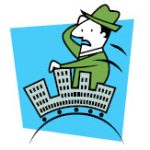 Volatility remains in control of mortgage backed security prices and the related changes in mortgage rates.   Between the time I began preparing for the radio show Monday morning and the time the show started around noon MBS prices had gone from down -12/32nds to up 5/32nds.  This kind of movement has been common lately.  One of the large correspondent lenders issued nine mid-day price changes last week alone.  What is causing this volatility?  As usual, volatility occurs during periods of significant uncertainty.  So what is uncertain now that is causing mortgage rates to move around so much?  The list starts with inflation.  Is the economy growing to the point where inflation is a threat?  Is the high level of inflation in China going to push US inflation higher?  Is Congress going to pass the current tax compromise as agreed to by Obama and the Republicans?  If so, will that be inflationary?  Other questions include, will deficit spending continue at its current pace, resulting in a continually growing supply of Treasury debt, causing all rates to rise?  Will foreign investors continue to buy our debt?  Will the Fed cut its quantitative easing program short or will they extend it?  There is much disagreement in the answer to these questions.  Until the answers to these questions are known or at least until  particular answers are generally believed to be correct, we will continue to see significant volatility.  Maybe the Fed Statement to be released today will clarify some of the questions.
Click PLAY to listen to the podcast of this week's BlogTalkRadio/Lykken on Lending with Dave Lykken and MBSQuoteline's Joe Farr:

MBSQuoteline supplies the essential market information necessary for effective decision making by Originators when assisting borrowers during the loan origination process, and for secondary marketing departments while managing pipelines. For additional information or to sign up for a free 2-week trial subscription, visit www.MBSQuoteline.com or call (800) 627-1107.
Tune in every Monday at 1:00pm(et)  for up-to-the-minute information on interest rates, loan programs and "hot" industry news related to the mortgage industry. Dial: (646) 716-4972 or log in at: www.blogtalkradio.com/lykken-on-lending