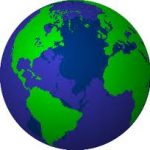 Toni Moss, the President of AmeriCatalyst and EuroCatalyst, joined the Lykken on Lending radio show on Monday to provide her thoughts on the world economy.  Toni's experience and knowledge makes her opinions worth listening to.  She has access to the finance ministers of most of the European nations, as well as in the US.  Toni's assessment of the world economy is that major changes are ahead.  And they are not positive changes.  She believes that a global economic collapse is underway and default by Greece on its sovereign debt, which she believes is imminent, will be the first of many dominoes to fall.   Money and the power that goes with it is leaving the western nations, including the US,  and moving east.  She believes globalization has neutralized the effect sovereign entities have over monetary policy and that we are headed to the end of the fiat currency system (money backed by governments, not a physical commodity).  She expects all this to be well underway in 2012.  Wow!
Toni paints a dire picture of our economic future.  Her opinions are certainly due thoughtful consideration.  I am not sure I know what you can do with the information.  If what she expects to happen happens the mortgage market, as most markets,  will undergo such fundamental change it would be impossible to plan for.  She will be back on the show in two weeks.  We will ask her what she recommends companies do with her information to plan for the changes she predicts.
Click PLAY to listen to the podcast of this week's BlogTalkRadio/Lykken on Lending with Dave Lykken and MBSQuoteline's Joe Farr:

MBSQuoteline supplies the essential market information necessary for effective decision making by Originators when assisting borrowers during the loan origination process, and for secondary marketing departments while managing pipelines. For additional information or to sign up for a free 2-week trial subscription, visit www.MBSQuoteline.com or call (800) 627-1107.
Tune in every Monday at 1:00pm(et)  for up-to-the-minute information on interest rates, loan programs and "hot" industry news related to the mortgage industry. Dial: (646) 716-4972 or log in at: www.blogtalkradio.com/lykken-on-lending