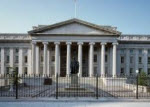 During the quantitative easing years of 2008 through 2014, the Fed acquired trillions of dollars of Fannie Mae, Freddie Mac and Ginnie Mae mortgage-backed securities (Agency MBS) and U.S. Treasuries. Its balance sheet grew from under $1 trillion to over $4 trillion. The Fed stopped adding to its holdings a few years ago, but has maintained a policy to reinvest principle payments received, thus maintaining a steady level of investments.
At times over the last few years when refinance activity was high and the Fed was reinvesting the principle payments it received, the Fed was the buyer of the vast majority of all newly issued Agency MBS. Even recently, the Fed has been the buyer of approximately 25% of newly issued Agency MBS. The demand from the Fed for Agency MBS has had a positive effect on mortgage rates.
For the past few months, Fed speakers have been saying that the time to begin "normalizing their holdings was near. But few details were provided.  The minutes of the Fed's May 3nd meeting, released on May 24th, provided some details about their plan. Although many details remain unknown.
The plan calls for the Fed to tell investors the maximum amount it will allow its holdings to decline each month. That amount will be increased after three months, and then again every three months until the amount reaches the Fed's maximum targeted levels. Reductions will then continue at this final amount until the balance sheet has normalized. This is expected to take place over many years. The minutes said that nearly all Fed policymakers expect to begin the process this year.
What remains unknown is how much reduction will be allowed during the first three months of the plan and by how much the monthly reduction will grow. Another unknown is the size of a "normalized balance sheet. Of particular interest to the mortgage industry will be the speed with which they choose to shrink their holdings of MBS.
Although many questions remain unknown, investors were pleased to see a plan which is intended to minimize disruptions to the market, and mortgage rates improved slightly after the minutes were released.